Pacific Vending Service first found us online and gave us a call. Then they initially went with another firm in Arizona for their website and SEO. That firm in AZ created a horrible website for them with all sorts of grammar errors and ugly colors, and did nothing for Pac Vending in 3 months. So, Pacific Vending Service came back to us because they told us they would if the first company didn't work out. We understood what a horrid job the other firm did for them because we not only saw the website we checked the SEO backlinks and found that in 3 months there were barely any…Yes, it was one of those cases where the SEO company stiffed them. If you are currently not seeing results with your SEO and want a free backlink analysis,
THE WEBSITE IN RECORD TIME
Pacific Vending Service wasted three months already and had no admirable online presence, so we took over. First, we gave him a deal he couldn't' refuse, then we added extra value and finally, we even revamped his logo within the package while offering 24/7 customer support by text and email throughout the process. We finished the Pac Vending site in 8 days from start to finish, fully optimized and got access to his domain which strangely, the other AZ company had temporarily hijacked. We also requested for all the marketing logins that the AZ company had for Pac Vending, and they gave us what they had which was 3 including the website because for backlinks they used Yext which is a one push of a button directory building service. (We do our backlinks manually so they last and don't have errors) Then we offered to design him his business cards which he accepted, approved and we shipped them to him.
THE CORRECT WAY TO GET CUSTOMERS
Pac Vending then requested us to do SEO, but we said No, let's do Ads instead because we want to help grow your business ASAP, and not wait for 3-6 months. So he agreed, and within 8-10 days of running Google ads for Pac Vending, we got him 4 quality customers. He was overjoyed to say the least. Then as the month went on he got more and more clients. See his actual message to us in snapshot from below:
Need Websites or Pay-Per-Click?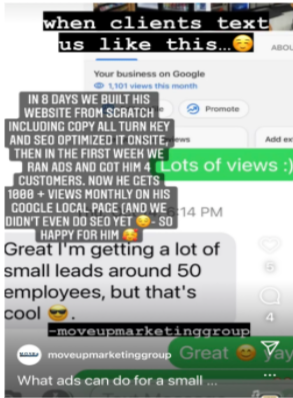 FOR QUALITY MARKETING
WITH TOP-NOTCH SERVICE,
COME TO US!