Kaizen Recovery Inc's Orange County Sober Living reached out to us because they were in need of a landing page. They have a location in San Diego which we previously ranked them for and they now needed to hit the top of Google organically for the Orange County area. We immediately got to work by making a landing page that was more modern than the old outdated website they used to have~( since then we just built a new one for them). Then we worked on their onpage SEO using technical SEO tactics and SEO copywriting. We took a photo of their sign on their office door and included it in their Google page to show Google it was a legitimate office location. Then we optimized the Google page top to bottom using every section to include relevant keywords and description of their business.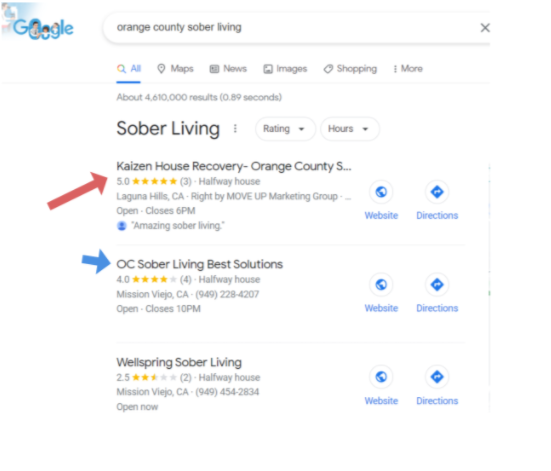 Kaizen Recovery Inc's Orange County Sober Living position on Google is top 1 on Google local places. Notice the red arrow. Also the blue arrow is a client we did SEO for as well years ago.
When we created the landing page we made sure that it was very user-friendly and had lots of call-to-action. Their target market would make a split second decision and we needed to make sure our client was that decision that they made.
Now we have been asked to reboot the SEO on the other website of their San Diego location, which by the way has a connection straight to the Orange County location allowing for an extra link boost, and which is very Google and user-friendly. So in a few months we will update this again, with more page one top 1 SEO updates for this client.
Need Websites or Local SEO?
FOR QUALITY MARKETING
WITH TOP-NOTCH SERVICE,
COME TO US!